Man who slashed National Gallery painting 'heard voices'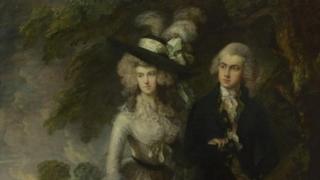 A man damaged a £24m painting in the National Gallery because a voice in his head told him to, a court has heard.
Keith Gregory, 63, slashed an X shape into Thomas Gainsborough's artwork, The Morning Walk, using a drill bit.
Mr Gregory, of no fixed address, absconded from a psychiatric hospital months before the attack on 18 March, the Southwark Crown Court jury heard.
He pleaded not guilty by reason of insanity to the charge of causing £10,000 of criminal damage.
Prosecutors say Mr Gregory, from Kettering in Northamptonshire, is guilty because he knew what he was doing was wrong.
The court heard that as security guards dragged Mr Gregory away from the painting, he shouted he had just been released from prison and would trigger a bomb.
He also boasted about the attention he got from witnesses at the museum, which is on Trafalgar Square, the jury heard.
The court was told Mr Gregory claimed he could pay for the damage because his father owned Queens Park Rangers football club.
'Family will find you'
Nicholas Dunham told Southwark Crown Court: "Since the incident Mr Gregory has been under psychiatric care and has been diagnosed with a mental illness, most probably paranoid schizophrenia.
"He said while standing in the National Gallery he heard a voice telling him 'put a mark on the painting and your family will find you'.
"What he said at the time and what he said afterwards, taken together, makes it clear that he knew that what he was doing was wrong."
Mr Gregory has the belief someone will kill him and make it look like suicide, the court heard.
He was admitted to a psychiatric hospital in October 2016 but absconded and had been sleeping rough for several months before the attack, the jury heard.
Larry Keith, from the National Gallery, said it took restoration experts more than 80 hours to repair the painting, which dates back to 1785.
He added that the slash marks could never be hidden completely and the painting had therefore fallen in value.
The trial continues.