Jamal Mahmoud Pentonville prison death: Men not guilty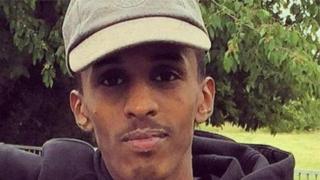 Three prisoners have been found not guilty of killing a fellow inmate in a north London jail after a row over smuggled contraband.
Jamal Mahmoud, 21, was fatally stabbed in Pentonville prison in October 2016.
Basana Kimbembi, 35, Robert Butler, 31, and Joshua Ratner, 27, were found not guilty of murder or manslaughter by an Old Bailey jury.
Kimbembi was found guilty of wounding another inmate, Mohammed Ali, with intent to commit GBH.
He will be sentenced on 11 December.
The other two defendants were found not guilty of the GBH charge.
Before his death Mr Mahmoud had taken over a senior role in the Get Money Gang (GMG) in Enfield, north London, from his older brother, the Old Bailey was told during the trial.
'I'll give you war'
The street gang is linked to drugs, violence and the death of a 15-year-old boy, the court heard.
Jurors were told that the victim, nicknamed Kaos, was leader of the mostly "Somali" GMG which clashed with Congolese Kimbembi over the delivery of a package of drugs and phones into G Wing on sheets.
Mahmoud demanded his share and warned "If you want war, I'll give you war", the court heard.
Mahmoud was attacked at the prison in the same year that an inspection identified acute staff shortages.
Two thirds of inmates reported that they felt unsafe there.
A follow-up visit in January found levels of violence remained too high.