TfL may take over suburban rail lines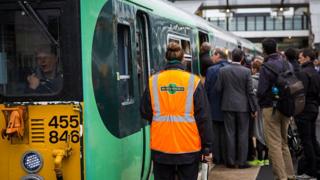 Transport for London (TfL) could gain control of additional rail services under new plans.
The plan forms part of a wider rail strategy under which the government will consider splitting up rail franchises, including Southern rail.
Transport Secretary Chris Grayling had claimed it would be too expensive for TfL to run suburban rail services.
A leaked letter claimed Mr Grayling opposed rail devolution to keep it "out of the clutches" of Labour.
From 2019 the Department for Transport intends to "review the future shape and size of the franchises".
Under the plans, railway lines closed in the 1960s could be reopened if they boost the economy, the government has said.
Ministers said they were considering "potentially transferring some services to Transport for London, for example the West London Line."
The line, which links Clapham Junction and Willesden Junction, is currently used both by TfL-controlled London Overground and Southern.
---
Tom Edwards, BBC London Transport Correspondent
Hidden away in the new Department for Transport (DfT) rail strategy is a line that has given the rail devolutionists a glimmer of hope that the dream is not dead.
Every mayor so far has wanted more control over suburban rail lines and Sadiq Khan also wants to expand the empire.
I'm told devolution will only happen if there is a clear benefit to passengers.
TfL actually already operates the Overground on the West London line anyway, so at best you may get a more frequent service.
I don't think anyone at Transport for London thinks this will lead to a huge transfer of lines to them.
---
Mr Grayling said: "Rail passengers deserve a more reliable, more efficient service.
"I will deliver it by ending the one-size-fits-all approach of franchising and bringing closer together the best of the public and private sector."