Sadiq Khan targets house building by relaxing planning laws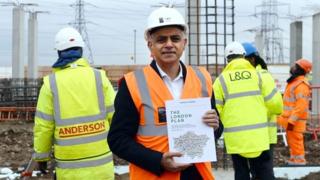 The Mayor of London, Sadiq Khan, has set out proposals to change planning laws to allow greater numbers of houses to be built in small spaces.
Announcing his first London Plan, the mayor said he wanted to see higher-density housing, more tower blocks and more affordable housing.
Mr Khan said the move would "make the most of precious land in the capital" and help "tackle the housing crisis".
The Conservatives said Mr Khan had "declared war on the suburbs".
Mr Khan's draft plan sets out his vision for London over the next 25 years as its population increases from 8.7 million to an estimated 10.5 million.
The 500-page document covers various aspects of life in the city, including:
Housing
Target set to build 65,000 houses every year with half of those built to be affordable
Refusing building applications on green belt land unless certain conditions are met
Require developments to achieve the "highest standards" of fire safety
Transport
Ban parking spaces from new homes and offices which are built near a transport hub
Higher density of housing along new transport routes such as the Elizabeth line
No commuter or visitor parking allowed for new office developments
Pubs, toilets and takeaways
Greater protection for pubs
Increased numbers of public toilets including better facilities for people with disabilities and gender-neutral loos
Encouraging councils not to allow takeaways to be built close to schools
Reaction to the draft London Plan:
Conservative London Assembly member Andrew Boff said: "The mayor's entire approach signals a downgrading in the quality of the capital's housing and will leave outer London browner, overcrowded and harder to get around.
"The abandonment of sensible unit restrictions will see families crammed into rabbit hutch developments with no provision for parking if they live anywhere near a train station," he said.
Analysis: Tim Donovan, BBC London Political Editor
Let's face it, few people will ever set eyes on the London Plan, let alone leaf through any of its 500 pages, but it's arguably the most important strategic responsibility the mayor has.
That's because it sets clear expectations - backed by legal and planning powers - for how the capital can be shaped to meet the demands of a population expected to top 10 million before too long.
From green belt to gardens, toilets to takeaways, pubs to parking spaces, City Hall sends strong signals to developers, borough councils and local communities on what is and isn't acceptable.
The scope is so huge, in truth the mayor and his team can - and will - only intervene on the largest and most controversial proposals.
But watch carefully for how things unfold - especially on affordable housing.
Sadiq Khan wants more density, more building upwards, especially in outer London and around or indeed on top of transport hubs.
With experts telling him 66,000 homes are needed each year, there will be inevitably be clashes with local authorities and communities who may not want things to change on the scale needed.
A three-month public consultation on the plan will open on Friday.