More social workers 'taking sick leave'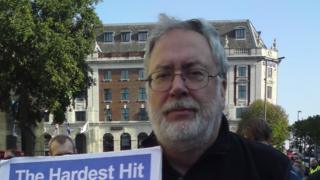 There has been a rise in the number of social workers taking long-term mental health leave, the BBC has learned.
A BBC Freedom of Information request found the number taking off at least a month rose from 1,537 in 2012-13 to 1,911 in 2016-17, in 135 UK councils.
A government spokesperson said employers needed to do more to protect their staff's mental health at work.
A British Association of Social Workers (BASW) study suggested more than half of workers are thinking about quitting.
The association questioned 1,268 social workers and of those who were considering their positions, the main reasons given were poor employment conditions, particularly high caseloads, poor management and long hours.
'Boss from hell'
Mike Bush worked as a social worker for 40 years, most recently for a council in a city in northern England, before he says growing casework and a more senior staff member bullying him left him facing a mental breakdown.
"At the time I was effectively doing two social workers' jobs at once, covering for a colleague that was off sick."
Mike said he was able to cope because he had a very supportive manager.
"Then the boss from hell came along," he explained
"He would scream and shout, and throw things. He was very bullying and oppressive to team members, and it was intolerable for people. Three of my colleagues were crying on my shoulder."
As a union rep, Mike took his concerns to the council, but all the pressure eventually got on top of him. He had a mental breakdown as a consequence, and became suicidal and depressed.
"I went from one day being a senior mental health social worker, to being a mental service user sitting on the opposite side of the table."
He said workplaces needed to be much more supportive of staff, and shouldn't be made to do too much with too little.
"I don't care how good you are as a social worker. If I put enough weights on your shoulders, you will collapse under the pressure. And this is what's happening."
'Unbearable pressure'
Ruth Allen, chief executive of the British Association of Social Workers, said: "This rise in people taking leave for mental health problems is a concern but isn't really a surprise.
"Social workers often tell us of poor working conditions and our recent joint study with the Bath Spa University and the Social Workers Union showed over half of social workers have thoughts of leaving their role within 18 months due to poor employment conditions, particularly high caseloads, poor management and working very long hours - a combination the study indicates is leading to burnout.
"A healthy, productive public sector cannot be maintained if the workforce has a turnover over rate of 30% as is the case in some social services departments."
Barbara Keeley, Labour's shadow cabinet minister for mental health and social care, said: "Cuts to adult social care budgets are set to reach £6.3bn by March this year while the funding gap for children's social care is expected to reach £2bn by 2020. This is putting unbearable pressure on social workers, who are left administering those cuts to care packages."
Lib Dem health spokesperson Norman Lamb MP said: "Staff are being asked to do the impossible at a time when social services are stretched to breaking point. For many social workers, workloads are unsustainable, which is no doubt contributing to the spike in long-term mental health absences.
"There is a real risk of a mass exodus from vital public services unless the government reverses several years of deep cuts to the budgets of local authorities."
A government spokesperson said: "We know social workers work incredibly hard to support both adults and children in need and we take their welfare very seriously.
"Employers need to do more to protect their staff's mental health at work which is why we are encouraging organisations to promote awareness of wellbeing."