London council tenants in line for water payouts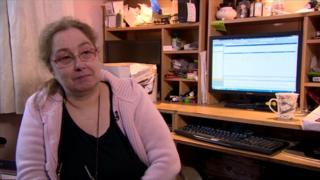 Councils in London have set aside millions of pounds and thousands of tenants may be in line for payouts after a landmark legal ruling over water charges.
At least 170,000 tenants across 14 councils could be given money back.
A ruling against Southwark Council means authorities with rate collection deals with water firms may have to make repayments.
One tenant said she faced eviction as water charges compounded her arrears.
The BBC sent Freedom of Information requests to 93 councils in London and the South East, asking for details of deals with Thames Water and other companies.
Eight London councils - Barking & Dagenham, Barnet, Enfield, Greenwich, Islington, Lambeth, Sutton and Waltham Forest - said they made £33m through such deals in the last six years.
Twelve London councils that had similar deals said they have set no money aside for repayments. These are Barking & Dagenham, Barnet, Camden, Greenwich, Hackney, Haringey, Harrow, Islington, Sutton, Tower Hamlets, City of London and Kingston.
Many said they believe the Southwark ruling was wrong and they would be challenging it in court.
---
Why are councils having to make repayments?
In 2016, the High Court ruled Southwark Council had been buying and reselling water from Thames Water, rather than acting as an "agent" and being paid a commission to collect rates.
This meant it was charging more commission than the Water Resale Order 2006 permitted, and it had to pay the difference back to tenants. It has repaid 41,000 council tenants £21m.
The case covered only the council tenant who brought the case, Kim Jones.
However, the legal precedent means other councils with similar arrangements that breach the order will have to pay money back unless they overturn the ruling.
---
Lorraine Cordell, 54, has been an Enfield tenant since 1982, and said the council had nearly evicted her over arrears including her water bill.
She said it was wrong councils had the power to evict people due to water non-payments.
"If I was paying directly to Thames Water, they wouldn't be able to threaten me with eviction," she said.
"I think it is absolutely disgraceful. Because they are taking money out of people's pockets, a lot of them are on low incomes."
The BBC identified 269 cases in Haringey, Tower Hamlets and Kingston councils where evictions included a claim for water arrears.
So far, Wandsworth Council has paid back £5.9m, and at least three other boroughs have established contingencies should the Southwark ruling stand.
Waltham Forest has set aside £4.3m, Enfield £2.2m and Kensington and Chelsea a contingent liability of £1.5m.
In the South East, Dacorum, Slough, and Waverley councils made £1.3m between them in fees from 2012-13 to 2016-17, while Stevenage Council refused to disclose its income from a similar deal with Affinity Water.
Waverly says £385,000 has been paid back, while Slough has set aside £1.5m.
'Changed policies'
London Councils, which represents London local authorities, refused to comment.
Enfield Council said: "Following the clarification to councils regarding how local authorities should act with the collection of water rates on behalf of utility companies, Enfield Council has changed its policies to ensure they are fully compliant with the Southwark ruling.
"We have no records of a complaint from Ms Cordell, but we are happy to discuss this matter with her should she get in touch."
Ben Hawkins from WaterClaimsUK, a company helping residents secure repayments, said: "Councils certainly don't want to pay tenants what they deserve, some say they are waiting for a legal challenge and won't pay a thing until it happens, others are trying to make small payments below the radar, at a massive discount of the true compensation that should be made."