Grenfell tragedy: Councils plan £380m fire safety spend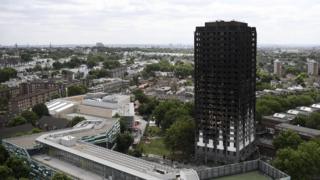 Councils across the capital will be spending a total of about £383m to make social housing safer following the Grenfell fire, research by BBC Radio London has found.
About half of London's boroughs have asked for financial help, which the government has not yet agreed to.
Of 33 London boroughs contacted following the disaster in June, 26 responded with estimated costings.
Four boroughs said it was too early to know how much they would be spending.
Two councils had no council housing to implement additional fire safety measures to.
The Royal Borough of Kensington and Chelsea - the council where the Grenfell Tower stood - did not respond to BBC Radio London's research request.
Ahead of Wednesday's budget, some councillors in London are calling on the government to make good on its promise in the days that followed the Grenfell fire to help councils with fire safety measures.
Measures councils have started implementing range from the removal of cladding and installation of fire doors and smoke alarms, to 24-hour security patrols on some blocks.
Other costs include removing people from their homes and temporarily re-housing them for safety reasons.
Ten councils are planning to put in sprinklers, with a further 11 considering installing sprinklers in council housing blocks.
---
Four highest planned spends
Southwark £162m (£62m spent so far, £100m estimated if sprinklers retrofitted)
Wandsworth £30m (Sprinklers and cladding)
City of London £25m (Fire compliant doors, sprinklers and fire alarms)
Hammersmith & Fulham £20m (Fire safety plus scheme)
---
Croydon has already started the process of installing sprinklers in 25 blocks over 10 storeys high at a cost of £10m.
However, Wandsworth has even bigger plans - to retrofit sprinklers in all 99 of its council blocks - which along with removing cladding, will cost it about £30m.
Wandsworth has faced criticism from some leaseholders over being required to contribute towards the cost.
So far eight councils have told BBC Radio London they would look at charging leaseholders for fire safety works while six would not.
Malcolm Grimston, an independent councillor in Wandsworth, said it was the government rather than the council or local people who should foot the bill.
Mr Grimston said: "It seems to me entirely unfair that that amount of money is coming out of the repair fund.
"We have a big problem with damp in our council flats. There are many of them that haven't had kitchens replaced for 30 or 40 years.
"This is a vast amount of money which could do an enormous amount of good and it seems to me only fair that rather than the tenants having to pay that, that money should come from general taxation."
Conservative run Wandsworth council said it had been in discussion with the government about funding but had not asked for any money.
Some 15 councils, including Labour-run Croydon, Lambeth, Newham and Southwark, have written to the government asking for money but said they had not been offered any funds.
Labour leader Jeremy Corbyn has called on Chancellor Philip Hammond to set aside up to £1bn to fit sprinklers in all council blocks.
Labour-run Tower Hamlets said it cannot afford sprinklers and it wants the government to use Wednesday's budget to meet a promise made by Communities and Local Government Secretary Sajid Javid following the Grenfell fire in June, when he said he would do "whatever it takes" to make high-rise buildings safe.
A spokesperson for the Department for Communities and Local Government said "councils should contact the DCLG to discuss their position if they have any concerns about funding fire safety works".
"Building owners are responsible for ensuring their buildings are fire safe and we expect them to fund fire safety measures," the spokesperson added.