Forest nursery demand in London rises as expert calls for more research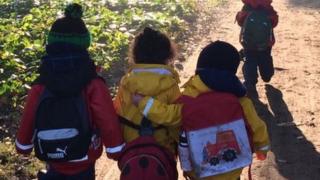 An academic has called for more research into the benefits of outdoor learning as demand for forest nurseries rises in parts of London.
Children at forest schools and nurseries spend all day, every day, outside whatever the weather.
As the method gains popularity, one London nursery revealed it has 2,100 children on its waiting list.
University College London's Prof Pasco Fearon said rigorous studies must test if forest schooling "really works".
Forest nurseries develop children's teamwork skills, an initial study by Loughborough University has shown.
The Scandinavian teaching practice follows the principle that children's education should centre on - and in - the outdoors.
The centres are Ofsted regulated and follow the same teaching curriculums as normal schools.
---
'In two weeks I had a completely different child'
Two-year-old Josh spends up to 10 hours a day outside at a Little Forest Folk nursery in south-west London.
His mother, Kim, 37, said: "It took about two weeks for him to settle in before I had a completely different child.
"It's like a light got switched on."
She said Josh's sense of balance had improved by "light years" and he was becoming "an incredibly helpful, caring child".
Kim added: "I feel more confident in the character he's developing in this environment than I ever did in an indoor nursery."
---
Little Forest Folk has 2,100 children on waiting lists across its five nurseries in Chiswick, Barnes, Wandsworth, Fulham and Wimbledon.
Free Range Urban Kids in Hackney, east London, has faced similarly high demand. It began caring for 10 children twice-a-week but now runs daily sessions for 20 children as well as sell-out holiday clubs.
In response to the rise in forest schooling in parts of the city, Prof Fearon said: "We need rigorous research to test whether it really works.
"In general we need a more evidence-based approach to education."
But he agreed fresh air and adventure were better for children's wellbeing than the stresses of a classroom.
The average child in the UK spends half as much time playing outside as their parents did when they were young, according to the National Trust.
And The Forestry Commission encourages all schools and nurseries to spend at least some of their time teaching in forest environments.
Loughborough University is planning a larger study for 2018.