London taxi and private hire cab sex attacks 'at 14-year high'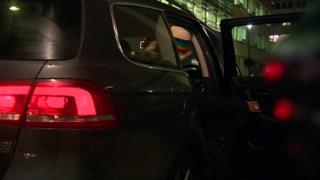 The number of rapes and sex assaults of taxi and private hire passengers in London reached a 14-year high in 2016, figures show.
Transport for London (TfL) and the Met Police revealed a 21% rise on the previous year.
In 2016, 164 offences were reported to police. Figures were only higher in 2002, when there were 189 sex attacks.
No licensed black-cab drivers were charged with journey-related sexual offences.
The figures take into account incidents of rape, attempted rape, assault by penetration and sexual assault.
A total of 31 drivers were charged for 34 offences in 2016, with 14 of them being convicted, figures show.
Of those charged, nine were found not guilty and five are awaiting trial.
There were 26 charges following pre-booked private hire journeys, with five of those convicted following journeys booked through the online hailing app Uber.
Two of the five convictions related to the same driver.
A further five Uber drivers were found not guilty and three more are awaiting a court hearing or outcome, the figures showed.
A substantial share of London's private hire drivers get work through Uber - with 40,000 drivers in the capital believed to be using it.
That is equivalent to about half of the city's active licensed private hire drivers.
An Uber spokesperson said: "We take any allegations of this nature very seriously, immediately preventing drivers from using our app and supporting the police with their investigations.
"All drivers who use our app in London are licensed by Transport for London and have gone through the same enhanced DBS checks as black-cab drivers.
"Our GPS technology also means that every trip is electronically tracked and recorded."
TfL said the safety of its passengers using black taxis and private hire vehicles was its top priority.
"Passengers should expect to be safe - and feel safe - when travelling by taxi or private hire and no one should ever be subject to sexual behaviour by a driver", it said.
None of the drivers who were charged with an offence currently hold an active private hire driver's licence, TfL added.
---
What is the difference between a taxi and a private hire vehicle?
Taxi's can be hailed from the street, can operate from taxi ranks and must have a meter and a fare table displayed.
Private hire vehicles cannot be hailed in the street, cannot use taxi ranks and must be pre-booked through a licensed operator.
---