St Paul's Girls' School sent sexual abuse claims by ex-pupils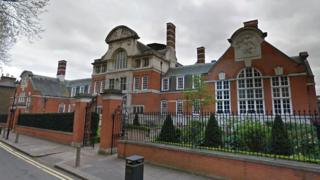 A prestigious London girls' school received claims of sexual abuse from ex-pupils after asking them to send examples of harassment they had encountered in the workplace.
St Paul's Girls' School contacted past pupils a week ago asking for stories which could be part of a drama piece.
In response, some alumnae replied with claims of abuse happening at St Paul's "between the 1970s and 1990s".
The school said it had passed all details to the relevant authorities.
'Absolute condemnation'
Sarah Fletcher, the high mistress of the £24,000-a-year fee-paying school, had asked ex-pupils - known as Old Paulinas - for stories of abuse in relation to the #metoo campaign.
Last month the hashtag became prominent as women and men from across the world who have been sexually harassed shared their stories across social media to show the magnitude of sexual assault.
Ms Fletcher then sent another letter on Monday saying a "small number" of alumnae had responded with claims of sexual abuse at the school.
"Two wrote from personal experience, others about what they had heard from friends," Ms Fletcher said.
The high mistress of the Hammersmith school said she had since written to express "our absolute condemnation of all such behaviour".
Ms Fletcher said she had also asked those who sent the allegations "to consider whether they would feel able to identify the individual(s), so that they can be held to account."
"The police can only do their job... if they have a name," she said.
In a statement, a spokesperson for the school said that while the claims "refer to events in the 1970s and 1990s, we take any information of this nature extremely seriously".
"We have passed all the details immediately to the relevant authorities, with whom we remain in close contact," they said.
The Met said it was unable to confirm if any allegations had been made.