Rose Paduraru: 'Urgent' appeal to find missing baby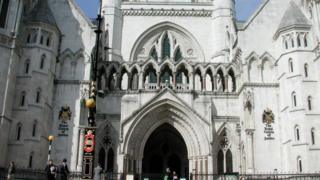 An eight-month-old baby is thought to have gone missing with her two older siblings.
Rose Paduraru vanished with seven-year-old sister Oliwia Ilksa and her 12-year-old brother Krzysztof Ilksa.
The children vanished after a court ruled they should be taken into council care. Their parents were arrested after the disappearance.
A High Court judge said it was "vitally important" the trio be found as soon as possible.
Mr Justice Keehan said on Tuesday he was "very seriously concerned" for the children's welfare and was particularly worried about Rose.
He urged anyone who had information about the youngsters' whereabouts to call police immediately.
All three youngsters were living with their mother in Hillingdon - and social services staff at the local council had responsibility for their welfare, he said.
Mr Justice Keehan issued the appeal after hearing from lawyers representing Hillingdon Council and Rose's parents.
Lawyers said Rose's mother was Polish and her father Romanian.
They said the couple were separated and Mr Paduraru lived in Greenford, west London.