Croydon Council approves Westfield shopping centre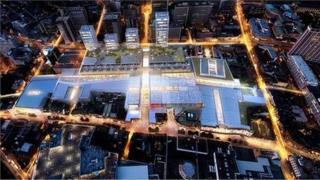 Plans for a £1.4bn Westfield shopping centre in south London have been approved by councillors.
Croydon Council has voted unanimously to approve the scheme, which has promised up to 7,000 new jobs and 1,000 new homes.
Councillor Tony Newman, leader of the council, said the development was "fantastic news for Croydon".
But councillor Joy Prince warned: "We will have to keep a very close eye on this and insist on quality."
The work to redevelop the town's Whitgift and Centrale shopping centres will begin in 2019.
Westfield to be 'catalyst' for Croydon
Australian retail giant Westfield is teaming up with developers Hammerson for the scheme which the council believes will bring "significant regeneration benefits".
It said it would "cement Croydon's reputation as one of the best destinations in the capital to live, work and play".
Plans were first granted permission in 2014, but in October last year an enhanced application was submitted with key revisions, including more housing and a new flagship Marks and Spencer store.
Council planning director Heather Cheesbrough told the meeting: "The redevelopment is a huge and significant development - it is hard to think of a similar size in a town centre in recent years.
"There will be objections and negative impacts but officers are confident that benefits will outweigh these."
Supporting the application, councillor Susan Winborn said the scheme was "key to Croydon achieving its potential".
'Bright future'
Councillor Wayne Trakas-Lawlor added that the number of jobs and training opportunities meant "the aspirations of millennials would be realised."
John Burton, Westfield's head of development, said the approval was a "significant milestone for the project".
He told the meeting: "We always said we would come back with increased housing and increased affordable housing and that is what we have done."
Minister for London Greg Hands said: "This major development will bring huge benefits to Croydon and south London as a whole - with thousands of new homes and jobs."
Sarah Jones, MP for Croydon Central, added: "The one piece of the jigsaw that we have all been working towards is for is the town centre to become the vibrant heart of Croydon once again.
"We have the largest young population in London and this will create thousands of job opportunities, setting our young people up for a bright future."