Regent Street Canada Goose store targeted by moped raiders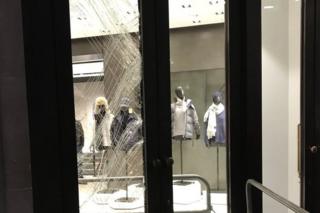 Raiders smashed through a Regent Street shop front on mopeds before stealing goods and fleeing the scene.
About 10 suspects on five mopeds made off with clothing from Canada Goose, which only opened a few days ago.
The break-in comes just 24 hours after 10 suspects on five scooters smashed their way into Apple's Regent Street store across the road.
The incidents have prompted warnings from high-end traders in Oxford Street, Bond Street and Regent Street.
Police were called at 01:30 GMT on Monday. They believe the theft may be linked to an attempted smash-and-grab at a clothing store on St John's Wood High Street.
The failed raid was reported to police at approximately the same time as the theft at Canada Goose.
Canada Goose was open as normal on Tuesday but with barriers around the damaged door. The shop's management declined to comment.
The Met is continuing to investigate the Regent Street break-ins and have made no arrests.
Jace Tyrrell, chief executive of New West End Company, said: "With this particular crime on the increase, it is crucial for businesses and public services to work together to tackle it and ensure our district remains safe for visitors, employees and residents."
From June 2016 to 2017, there were 16,158 crimes in London involving powered-two-wheel vehicles, up from 5,145 in 2016.
Just two weeks ago the Met revealed plans to reduce the number of crimes carried out on scooters in London.
The force has deployed remote-controlled spikes, DNA tagging sprays and slimmer police motorbikes.
At the time the Met Commissioner Cressida Dick said she was shocked by the "extraordinary rise" in moped crime.