Emma Dent Coad MP apologises over 'racist blog post'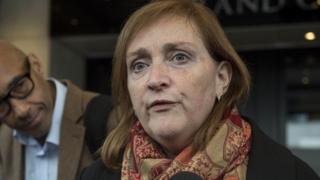 A Labour MP accused of writing a "racist" article about a London Assembly member has apologised for "any offence caused".
Emma Dent Coad wrote a blog piece in 2010 in which she labelled Shaun Bailey a "token ghetto boy".
Ms Dent Coad told BBC Radio London she had been quoting "an Afro-Carribean" constituent in her blog.
Mr Bailey urged the Labour leadership "to take the strongest disciplinary action possible" against Ms Dent Coad.
However, Jeremy Corbyn has said he will not withdraw the whip from the Kensington MP.
He said he would "obviously ensure that people discuss the use of language" and "make sure that everyone treats others with respect."
In a letter to the Labour leader, Mr Bailey called the apology "cowardly".
Mr Bailey said: "Despite her claims, she can provide no evidence that I or anyone else used the horrendous terms she advocated."
In the piece Ms Dent Coad claimed Mr Bailey, who was a parliamentary candidate for Hammersmith, had "stigmatised" the area he was born in by referring to it as a "ghetto".
"Who can say where this man will ever fit in, however hard he tries? One day he is the 'token ghetto boy' standing behind D Cameron, the next 'looking interested' beside G Osborne. Ever felt used?", she wrote.
Speaking on the Vanessa Feltz breakfast show on BBC London, Ms Dent Coad said: "If [Mr Bailey] is offended, I apologise."
In another letter sent to Mr Corbyn, Conservative MPs Kemi Badenoch and James Cleverly called his "failure to condemn her comments... disappointing and concerning".
"It gives the impression that you are comfortable with the comments Ms Dent Coad made," they wrote.