Hanworth Park House: Listed building 'could fall down' without restoration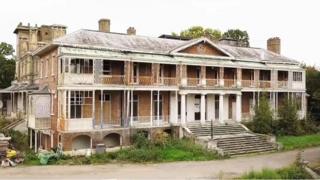 A Grade II listed building is at risk of falling down after the local council opposed plans to restore it, the owner says.
Hanworth Park House in west London has stood empty for 25 years.
But Hounslow Council said plans to build new homes on the green belt site, to raise the £10m restoration costs, are unacceptable.
Owner Gary Cottle, 51, said he will be submitting a new planning application soon.
Tudor hunting lodge
First used as a hunting lodge by Kings Henry VII and Henry VIII, the park's original manor house burned down in 1797.
The new build has been standing since 1802 and acted as a military hospital in World War I and was most recently a nursing home.
Mr Cottle, who bought the house three years ago, wants to build new homes in a section of Hanworth Park in order to raise restoration funds.
Around 10 acres of parkland, a museum and a pop up cafe would also be opened up to the public.
He added he is "astonished" by the level of local support for his plans.
Membership of a Facebook group supporting restoration has soared from 200 to almost 1,200 in two months.
Mr Cottle worries the house could fall down if nothing is done soon.
"It's in a pretty precarious situation. The old, heavy balconies are pulling the place down," he said.
Steve Curran, leader of Hounslow Council, said he is keen to see the house restored but the plans cannot be accepted as they are.
He said: "The public benefits do not outweigh the significant harm from building on a large area of the green belt."
Mr Curran explained a successful planning bid would involve building in another, more "suitable" area.
Mr Cottle withdrew the application four weeks ago and he hopes to submit amendments before restoration costs rise any higher.
Six years ago the costs were at an estimated £6m. Mr Cottle said that figure today is "north of £10m".
He added: "I'm hoping common sense is going to prevail.
"The house is the most iconic house in west London."