Regent Street Apple store guard threatened by moped gang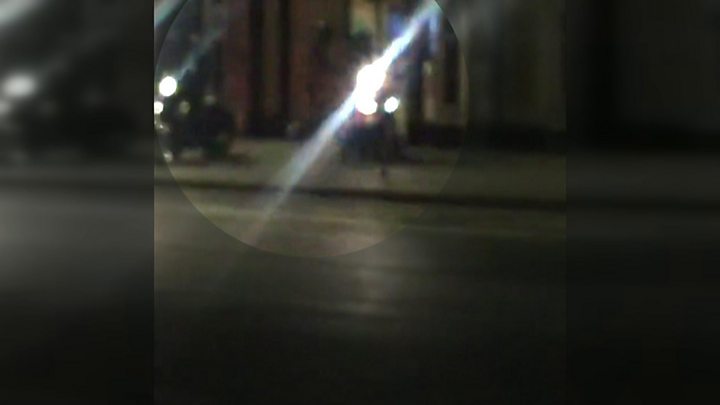 A security guard at a central London Apple store was threatened with a hammer as he tried to stop a gang of raiders on mopeds.
Ten suspects on five mopeds smashed their way into the Regent Street shop at 00:45 GMT and escaped with iPhones, iPads and Apple Watches.
Two iPhone Xs were later recovered near Kings Cross.
The flagship store was fully operational with no visible damage later on Monday morning.
Apple declined to comment.
Miah Mohammad Sheful, captured video of the raid when he was waiting for a bus nearby.
The 28-year-old said it took the suspects several attempts to break in the door of the tech giant's store.
Passing cars started beeping their horns to prevent the burglary as they realised what was unfolding, he said.
The moped gang got away within seconds.
The suspects, described as wearing dark clothing, are said to have made off northbound along Regent Street.
The man who threatened the guard was described as black.
Moped crime increase
The raid comes one month after a gang riding mopeds attacked a jeweller's in the same street.
Three suspects are believed to have used a hammer, axe and bats to break into Mappin & Webb on 9 October. They escaped with a high-value haul.
Offences involving scooters and mopeds are on the rise in London.
Figures suggest that in the year to September, there were more than 19,385 "moped enabled" crimes in the capital - an average of 53 a day - including thefts and robberies.
Last month, a moped gang that robbed more than 100 people, including former Chancellor George Osborne, was jailed.
Anyone with information about the latest raid is urged to contact the Metropolitan Police.