Building fire safety 'must improve', London Fire Brigade warns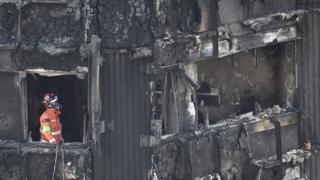 More serious fires such as that at Grenfell Tower could happen unless safety measures get more priority, the London Fire Brigade (LFB) has warned.
It made a series of recommendations to the body reviewing building regulations in the wake of the west London tragedy.
Dame Judith Hackitt's inquiry was told a "lack of competence" is allowing "dangerous decisions" to be made about building design and construction.
The LFB described the review as a "once in a generation" chance for change.
The brigade told the independent inquiry urgent action was needed to regulate those responsible for designing, constructing and maintaining buildings.
It said a loophole in the current arrangements allowed fire safety elements in buildings to be designed without any involvement from fire safety professionals.
The LFB has called for formal qualifications or accreditation for those installing ventilation, smoke detector and fire alarm systems.
It also wants a clampdown on companies that act as a building control body as well as providing fire safety advice - without any separation of the roles involved.
A lack of a robust, independent on-site inspection programme to make sure fire safety elements were included in the finished design should also be addressed, it said.
'Dangerous flaws'
The LFB's assistant commissioner for fire safety, Dan Daly, said: "It took a tragedy for everyone to take fire safety seriously and listen to what the brigade has been saying for years about skills.
"There are countless points where a dangerous decision can be made about a building's design or upkeep and hardly any measures to ensure that the people making those decisions are sufficiently experienced and properly qualified.
"This means that potentially dangerous design flaws could exist within a building until we either find it at a later date or, in the worst case scenario, it is exposed by a serious fire.
"We don't have the legal powers or the resources to check the entire fabric of a building but we often uncover dangerous flaws that we can't ignore."
He added: "We recognise that this is a once in a generation opportunity to make buildings safer and are actively supporting the review process."