Thousands brave rain for Lord Mayor's Show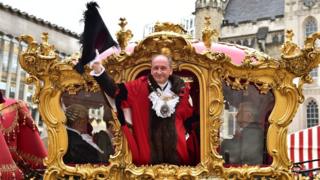 Thousands of people have braved the rain in London to watch the annual Lord Mayor's Show.
More than 7,000 people, alongside 70 floats, took part in the parade, which is in its 802nd year.
The procession marks the first public engagement of the new Lord Mayor of the City of London, Charles Bowman.
It sees Mr Bowman, the 690th Lord Mayor, travel from the Guildhall to the Royal Courts of Justice before swearing allegiance to the Crown.
The Lord Mayor's Show began in 1215 as a river pageant on the Thames.
Mr Bowman said: "The Lord Mayor's Show celebrates the historic and thriving City of London - the very centre of our strong and diverse capital - which, in turn, supports a globally successful country.
"It is a joyous occasion, full of colour, fun and ceremony, and it is wonderful that so many people come along and enjoy the carnival atmosphere.
"It is entirely right that the show brings together so many diverse groups and communities from London and the UK, including hundreds of young people who love taking part."
The end of the day saw a fireworks display between Blackfriars and Waterloo bridges.