Reker Ahmed: Three guilty over student street attack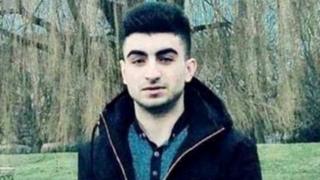 Three men have been convicted for their part in a violent brawl that left a student with a fractured spine and a bleed on the brain.
Reker Ahmed, 17, also suffered facial fractures when he was attacked in Croydon, south London, on 31 March.
George Walder, 23, Lliam Neylon, 19, and Kurt Killick, 18, all of Croydon, were each convicted of two counts of violent disorder.
Three other defendants were acquitted at the trial at Croydon Crown Court.
Mr Ahmed was left with "life changing injuries" after being subjected to two attacks over 16 minutes.
The court heard one of the attackers shouted at Mr Ahmed and his friend: "You are asylum seekers, you are refugees, you have to go back to your country."
Witnesses described seeing as many as eight people attacking Mr Ahmed at once after he became separated from his two friends,
The subsequent fight was so violent that a passer-by pleaded: "Stop. You're killing him."
Before the fight Mr Ahmed and his friends Hamo Mustafa and Dilshad Mohammed had been chatting a group in The Goat pub on Broom Road.
The fight broke out soon after the group found out they were from Iran and Iraq, Mr Mustafa said.
---
The six people on trial:
George Walder, 23, of Myrtle Road, was found guilty of two counts of violent disorder
Lliam Neylon, 19, of Ferris Avenue, was found guilty of two counts of violent disorder
Daryl Davis, 21, of Laurel Crescent, was cleared of two counts of violent disorder
Danyelle Davis, 24, of Laurel Crescent, was cleared of two counts of violent disorder
Kurt Killick, 18, of Courtwood Lane, was found guilty of two counts of violent disorder. He was also cleared of one count of grievous bodily harm with intent
Kyran Evans, 23, of Shrublands Avenue, was cleared of two counts of violent disorder