Croydon Halloween murder: Two guilty of killing student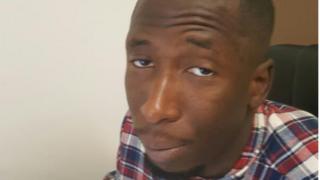 A man and a teenager have been found guilty of killing a student and attacking his two friends in a night of Halloween violence in south London.
Scotty Kouebitra, 22, suffered knife wounds to the neck and chest when he was set upon in a park in Croydon on 31 October 2016.
Jahliel Rose, 21, and a 17-year-old boy were found guilty of murder and two counts of wounding with intent.
Two others were cleared of all counts at the trial at the Old Bailey.
Mr Kouebitra had been setting off fireworks with friends when he was attacked by a group of up to eight men who were armed with knives, baseball bats and a screwdriver.
Two friends who he was with, Keith Hawker and Adil Jamal Abdilahi, were also stabbed during the rampage which took no more than a couple of minutes.
Prosecutor Louis Mably QC told the jury the attackers had gathered at an industrial estate to prepare for the "futile and completely senseless" attack.
After they arrived at the park in two cars, one of them shouted "let's shank [stab] him" and Mr Kouebitra was fatally stabbed, the court was told.
Mr Abdilahi, who needed 50 stitches after he was knifed in the stomach, said he saw Mr Kouebitra being kicked, punched and hit with a metal pole.
Det Ch Insp Sam Price said the victims "were not involved with gangs" and appeared to have been "in the wrong place at the wrong time".
He said the "premeditated attack" had "apparently arose from a disagreement... but despite their planning [the attackers] ended up carrying out a deadly assault on the wrong people".
Dealing drugs
The jury heard the 17-year-old defendant, who cannot be named for legal reasons, was on a tagged curfew at the time of the murder having admitted being part of a plot to steal mopeds.
The sensor on the tag revealed he did not return home until after the murder and blood found on his snood placed him close to Mr Kouebitra when he was stabbed.
Giving evidence, he claimed he had been dealing drugs in the park at the time.
Following the verdicts, Judge Sarah Munro QC said the case was "far from rare".
Rose, of no fixed abode, and the 17-year-old boy were remanded in custody to be sentenced on Wednesday.
Two other men, Aaron Jackson, 26, of South Norwood, and Marcus Asemota, 23, of Bromley, were cleared of all charges.