Pentonville Prison murder accused 'had no reason to kill'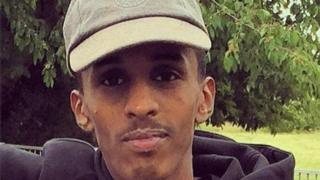 A prisoner accused of murdering a fellow inmate has told a court he was attacked as he attempted to settle a dispute over drugs.
Robert Butler, 31, denies killing Jamal Mahmoud, 21, at HMP Pentonville last October.
He told jurors at the Old Bailey he had "no reason" to attack the victim and had been trying to have a "productive" chat with him before a fatal brawl broke out.
Mr Butler and two others deny murder.
He and fellow prisoners Basana Kimbembi, 35, and Joshua Ratner, 27, also deny wounding with intent to cause grievous bodily harm.
The jury heard the trio went to see Mr Mahmoud after the 21-year-old demanded Mr Kimbembi hand over a football-sized parcel of drugs and phones which had arrived the day before.
Mr Butler told the court he had a "neutral role" between Mr Kimbembi and Mr Mahmoud - who he counted as a friend and associate in the contraband trade.
He said he had taken the victim to the landing for a "productive" chat when discussions became heated.
He said Mr Mahmoud's friend Mohammed Ali then appeared and swung a sock with a weight in it at him.
"He tried to hit me. I saw it coming and I blocked it and swung towards him," he said.
Mr Butler told the court he was then stabbed in the back so he turned round and saw Mr Mahmoud holding a "kitchen knife".
The 31-year-old said he then took out a folding knife which he was carrying and swung at the victim, catching his hand.
When asked why he had a knife with him, Mr Butler told the jury "the majority of G Wing prisoners have weapons".
"Every time I come out of my cell I've got it because it's a dangerous place," he said.
However, he told the court he had no reason to want to attack Mr Mahmoud and had not been looking for a knife fight.
The trial continues.