Croydon tram crash: Two memorials unveiled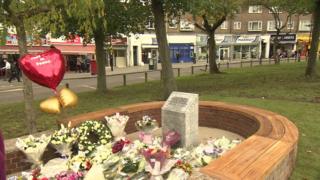 Two memorials honouring the victims of the Croydon tram derailment have been unveiled on the first anniversary of the tragedy.
Seven people died when the commuter tram overturned on 9 November 2016.
A stone plinth has been erected near the crash site at Sandilands Junction, and a new communal area built in New Addington.
Families of the victims attended a memorial service, along with Mayor of London Sadiq Khan, on Thursday.
Taiye Ajbiola, who was on the tram when it derailed, said the anniversary brought back painful memories.
"Two or three days before today I've been having a lot of flashbacks. This morning it was like I was on the tram again," he added.
Speaking at the service, Mr Khan said: "Our public transport system should be a place where people are always safe.
"We owe this to the victims, the families and to all Londoners."
Tony Newman, leader of the council, said the ceremony "gives all those affected a chance to think back".
"Although a year has passed since the incident we still mourn those who died on that dreadful day."
The seven people killed in the crash were Dane Chinnery, 19, Philip Logan, 52, Philip Seary, 57, Dorota Rynkiewicz, 35, and Robert Huxley, 63, all from New Addington, and Mark Smith, 35 and Donald Collett, 62, both from Croydon.
The tram had been travelling at 44mph in a 13mph zone when it derailed near the Sandilands Junction area of Croydon, an interim report found.
An full investigation is under way into the causes of the tram derailment.
The Rail Accident Investigation Branch (RAIB) said its final report is "nearing completion" and is expected to be published by the end of the year.