King's Cross fire: 'I was screaming in pain'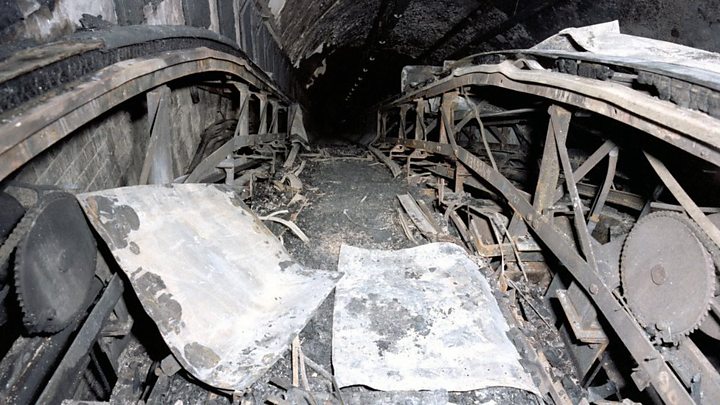 In its 124-year history there had never been mass loss of life in a fire on the London Underground. But on 18 November 1987 that would change, as a flashover - a sudden and rapid spread of fire caused by smoke or fumes igniting - claimed the lives of 31 people at King's Cross. Some of those who survived have been recalling the events of that night.
Daemonn Brody, who had moved to London five days earlier to start a new job, was on his way to see the Regent Street Christmas lights.
As the self-confessed "computer geek" waited for a Victoria Line train at King's Cross Tube station, he realised passengers were being evacuated.
He joined them, heading up an escalator back into the ticket hall from the underground platform.
"There were a lot of people running about, and there was definitely commotion," he said.
"A police officer was shouting: 'Get out, get out'. It was really turning panicky."
As Mr Brody walked across the ticket hall he was floored by the fireball that shot up from below, and he realised his back and legs were on fire.
"I hit the deck," he said.
"Dropping to the floor was a mix of instincts and just not being able to stand up as the ticket hall filled with smoke."
Mr Brody crawled along the ground, unable to breathe as the intensely hot air burned his throat.
He remembers worrying that no-one would recognise his body: "I was upset - I knew I was dying and that nobody would know I was down there."
But he somehow found his way to the steps at the bottom of the south side of the exit to Euston Road.
"I could hardly walk and was screaming in pain, very, very loudly," he said.
From there he was helped to safety by members of the public.
They threw water on his burns as he stared at the skin that was hanging off his hands.
The fire, which had actually begun beneath Escalator Four around a quarter of an hour earlier, at about 19:30 GMT, is suspected to have been caused by a match discarded by a passenger. (Although smoking had been banned in all subsurface stations since a fire at Oxford Circus in 1984, people often lit cigarettes on their way up the escalators on their way out of the station.)
Fuelled by a build-up of grease and dust inside the wooden escalator, the fire spread until smoke began to spew from under the steps and out into the main concourse.
It was at about this point that firefighter Stewart Button and his colleagues arrived in the first fire engine to attend the scene. Minutes later, the fireball blasted up into the ticket hall - the precise time of 19:45 can be documented because the severe heat melted the wiring of the digital clock at the top of the escalators.
Mr Button said: "You heard a dull 'woomph' sound and when I turned around, you could see a thick black wall of smoke."
Station officer Colin Townsley, the only firefighter killed in the tragedy, was caught up in the flashover.
When Mr Button and other colleagues found him in the tunnel they carried him out of the ticket hall, and paramedics tried to resuscitate him on the street above.
Mr Button said: "Although it was devastating it didn't really hit you then.
"He was in good hands and there was still screaming down below, so back in again we went."
The temperatures underground reached up to 600C, with firefighters having to resort to spraying each other with water to keep cool.
Some 150 would spend the following hours helping trapped and injured people reach paramedics on the street above.
"The problem we faced was that the St Pancras entrance seemed to be directly fed up from the Piccadilly Line escalators," Mr Button said.
"So as the trains were moving through, pushing the air up through that main concourse area, the heat was intensified.
"When a train started passing through, all you could do was lie flat on the floor, cover your ears, and just hang on and wait for it to pass."
Above the ground, Sophie Tarassenko had been in the area meeting a friend when she saw the fire engines.
She had no idea her 25-year-old brother Ivan, who she describes as a "laid-back, happy-go-lucky chap", was inside the Tube station.
Ivan Tarassenko, who had been on his way to Notting Hill for a band rehearsal, would be among the 31 people who perished in the blaze.
Reflecting on her loss, Ms Tarassenko said: "You cry a lot, for a long time.
"It's a shocking thing and every time something like that happens - whether it's Grenfell, or a terrorist incident - you think of all the people who are getting that news."
Mr Button is also deeply affected by the death of his colleague, who was found next to an injured passenger.
He said: "As a fireman you are very often going out and you deal with those people that are casualties and you do it professionally, and you don't know those people.
"This was different because it was one of your own, one of your brothers."
Sir Desmond Fennell's report into the fire said all the evidence suggested Mr Townsley had been "overcome by smoke and fumes while trying to help the burned passenger" in what he described as a "heroic act".
The public inquiry Sir Desmond chaired triggered huge changes for both firefighting and London Underground's safety procedures.
A smoking ban was enforced, wooden escalators were removed, staff were trained in rigorous fire safety plans, and, more recently, communications between Underground staff and emergency services have been greatly improved.
Firefighters' equipment and uniforms have also undergone drastic changes.
Protective gear worn by firefighters at King's Cross included yellow plastic leggings that melted under intense heat and red rubber gloves, which gave limited movement.
Today, firefighters' clothing is made of the lightest, most protective materials possible, London Fire Brigade said.
---
Fire timeline
16:00 to 18:30 - About 100,000 people pass safely through King's Cross, one of the busiest stations in the capital
c.19:29 - First reports of a small fire and smoke on Escalator Four
19:36 - London Fire Brigade despatches crews from three fire stations
c.19:39 - Police officers start evacuating passengers
c.19:42 - Police tell booking office staff to leave, which they do about a minute later - in the confusion no-one alerted those in the bureau de change or public lavatories
19:42 - First firefighting crew arrives, led by station officer Colin Townsley
19:43 - Mr Townsley goes to look at the fire before returning to the ticket hall
19:45 - The flashover rips up the top of the escalator and through the ticket hall
c.19:59 - First ambulance arrives
20:16 - London Ambulance Service declares major accident to alert hospitals
21:48 - Fire brought under control
Source: Public inquiry into the King's Cross fire
---
Ms Tarassenko finds some solace in the improvements, even though they took some time to be implemented.
She said: "[London Underground] were slow [to make improvements] in the late 80s, early 90s, but I feel far more confident than I used to in the Underground."
The efforts to improve London Underground since 1987 mean it is now considered one of the safest metro systems in the world, according to managing director Mark Wild.
"There isn't a month goes by in my job that we don't reference the King's Cross fire," he said.
"It had such a phenomenal and beneficial effect on the organisation: so out of a desperate tragedy good things have actually come."
Survivors and victims' families will attend memorial events this weekend.
But Mr Brody plans to spend Saturday at home with friends.
He said he had always felt awkward and uncomfortable at anniversary events because others there have lost loved ones.
"I'm 50 years old but I still struggle as if I was 20 - that guilt of being a survivor."