South Western Railway train derails near Wimbledon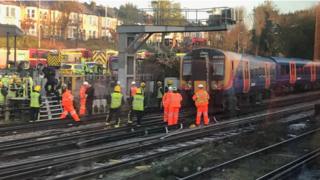 A train which derailed with 300 passengers on board has caused knock-on delays on London's transport routes.
The South Western Railway (SWR) commuter service from Basingstoke derailed near Wimbledon station in south-west London at 05:54 GMT.
The rear axle of the last coach derailed at low speed as it left the station. One person had minor injuries.
There are delays on mainline services and the District line between Wimbledon and Parsons Green is blocked.
Disruption is expected on the SWR line until 15:00 GMT.
Latest updates on London travel problems
Four people were checked for injuries but no-one required hospital treatment, London Ambulance Service said.
Nine fire engines were in attendance.
'Lots of screeching'
Jane and John, who were on the derailed carriage, told BBC Radio London they thought the train was "going to come off the rails totally".
"There was lots of noise, lots of screeching, lots of sparks, and John and I held on to each other and thought 'we're in trouble if it goes over'," Jane said.
John said: "It felt at one point like it was going to tip, then it didn't, and remarkably, no one was screaming or anything, everyone was pretty calm, but it felt like it came quite close.
"You could tell it was off the tracks."
Transport for London (TfL) said engineers are recovering the derailed train, which is blocking the District line.
"Our engineers are supporting Network Rail with recovery work, which is likely to continue for the rest of the day," TfL said.
The Metropolitan line still has minor delays due to an earlier signal failures at King's Cross St. Pancras and Wembley Park.
The Bakerloo, Central, Circle and Hammersmith and City lines now have a good service.
A number of people have taken to social media to complain of the delays.
'Ruined Monday morning'
User Yoann said: "#SouthWesternRailway when are you going to sort this mess? Constant delays, overcrowded trains; care to provide a good service one day?"
While Barry O'Sullivan tweeted: "So all the trains out of Basingstoke are delayed. Got myself a late one, but it's now broke down at Hook! #whatajoke"
Another, Rebecca, said: "Can't believe I'm getting the bus the whole way to work. Nothing like a derailed train to ruin a Monday morning!"
The Rail Accident Investigation Branch is investigating the cause of the incident.