Grenfell: Fireworks 'may distress' those scarred by disaster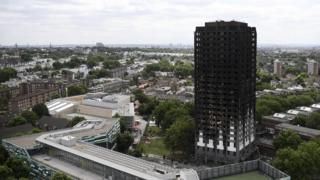 Bonfire night could reawaken symptoms of trauma in those scarred by the Grenfell tower fire, authorities warn.
Kensington and Chelsea Council has written to local schools alerting them of the emotional risk posed by the annual festivities.
It is feared seeing open fires and fireworks could distress children and families who experienced the blaze.
The borough's set-piece display will take place yards away from where many Grenfell survivors are staying.
'Triggers'
Displaced families are to be pre-warned about the showcase display on Saturday night at the Roof Gardens, which starts at 23.45 BST, while extra support staff are to be deployed.
Roaming teams will also be sent out as it is feared unregulated bonfires pose the greatest risk of upsetting witnesses to the June 14 tragedy which killed more than 80 people.
Emma Will, of Kensington and Chelsea Council, said: "Traumatic memories can be revived by many sensations - a sight, a smell, a noise. These can trigger a response that takes a person back to the most traumatic of times."
Mental health workers from the NHS and nearby Hestia charity will be drafted in to provide support across North Kensington across the weekend, the council said.