Bailiffs collect 500,000 parking fines for London councils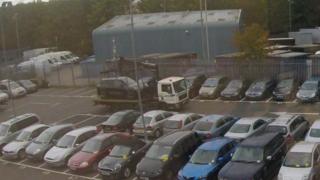 Bailiffs were employed to recover nearly 500,000 parking fines in London last year, the BBC has discovered.
Councils recovered £17.5m using bailiffs to collect debts from people with unpaid parking fines - a 22% increase in two years.
One young man, who later took his own life, was told he had to pay £1,019 for two unpaid £65 parking fines.
Bailiffs act "in accordance with relevant enforcement legislation," the Civil Enforcement Association said.
"Cases are only passed to the civil enforcement agencies where the offender has failed to respond to the council," the association - which represent bailiffs - added.
Jerome Rogers took his own life shortly after his motorbike was clamped by bailiffs due to two unpaid parking fines issued by Camden Council.
Tracey Rogers, Jerome's mother, said councils "need to think about what they're doing and not put people in a worse situation".
At the inquest into Jerome's death the coroner concluded the bailiff was acting "calmly" and within the law.
Jerome was also subject to several stressors when he took his life, the inquest found.
Camden Council said it urges people who are struggling to pay debts to contact them, and that bailiff action will be suspended while a case is reviewed.
Last year 451,503 unpaid Penalty Charge Notices were taken on by bailiffs on behalf of 32 London boroughs.
Bailiffs, on the authority of the courts, are allowed to seize property if debtors fail to pay what they owe.