Pentonville Prison murder: Anonymous witness's identity revealed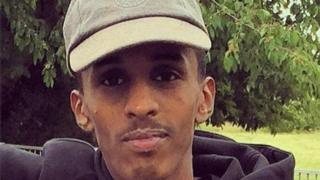 An anonymous witness in the Pentonville prison murder trial pulled out of giving evidence when his cover was blown after less than an hour in court.
The witness inmate, known by pseudonym Bobby Dorset, was giving evidence for the prosecution of three prisoners accused of killing Jamal Mahmoud.
Mr Mahmoud, from Enfield, was attacked on 18 October 2016.
The witness's identity was revealed by "very regrettable" accident, Judge Richard Marks QC told the Old Bailey.
Mr Mahmoud, 21, was fatally stabbed last year in a row over contraband smuggled into the north London jail, the court has heard.
Basana Kimbembi, 35, Joshua Ratner, 27, and Robert Butler, 31, all deny murder.
In order to keep his true identity secret, special measures were taken to enable Mr Dorset to give evidence.
He spoke through a distorting voice modulator and his face was hidden from view by a screen.
But after less than an hour in the witness box last Wednesday, Judge Marks QC called a halt to his evidence and sent the jury home.
'No further evidence'
A week later, the jurors were recalled to court and the judge explained Mr Dorset was unwilling to continue after his true identity was revealed by a "very regrettable" accident.
Judge Marks said: "The nature of the problem which arose was that it became apparent that the true identity of the witness Mr Dorset had become known.
"This development was made known to the witness and the upshot is that he is no longer willing to give any further evidence and so you will not be hearing from him further."
The judge said Mr Dorset had already given some evidence but had yet to say anything about what he saw on the day of the killing.
The trial continues.