Finsbury park toddler death: Father killed son with hammer on 'special night'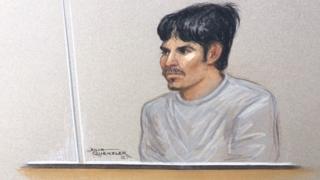 A man bludgeoned his 16-month-old son to death with a hammer after telling his partner it was a "special night", the Old Bailey has heard.
Bidhya Sagar Das, 33, killed Gabriel Sonu Bibekas at their home in Finsbury Park, north London, on 18 March.
The couple's relationship was rocked by Das's suspicions that partner Christinela Datcu was unfaithful.
Das admitted manslaughter by diminished responsibility and the attempted murder of another child, the court heard.
The first day of a two-day sentencing hearing was told that on the night Gabriel was killed Das gave Ms Datcu a foot rub before telling her the night was "special".
'Stuff of nightmares'
While taking a shower Ms Datcu heard crying and rushed into her son's bedroom "to find a scene that was the stuff of nightmares", prosecutor Zoe Johnson QC said.
Gabriel was covered in blood, having suffered multiple skull fractures. He was pronounced dead later the same night.
A young girl, who cannot be identified for legal reasons, also had "terrible head injuries" but survived, Ms Johnson said.
After killing Gabriel, Das left the flat and dumped a large claw hammer in a nearby skip.
The Old Bailey heard the couple met at the Central Park Hotel in Finsbury Park where they both worked, the court heard.
When Ms Datcu fell pregnant, Das told her he did not want children because he was not a "strong person".
After Das failed to turn up for work on 14 March, he told his manager that his partner was being unfaithful.
Ms Johnson said Das's suspicions of infidelity were "completely unfounded" and caused "significant difficulties between the couple".
"His paranoia resulted in him repeatedly calling her from work to check up on her, and then to leaving work during his night shifts to come home to see what Ms Datcu was doing and to search for men he believed were hiding in the flat," she said.
Das had assaulted his partner at least three times as he accused her of being unfaithful, the court heard.
Ms Johnson said: "Things got so bad that on the occasions when they spent the night together he removed his shoe laces and tied Ms Datcu's underwear to his own, to ensure that she could not get up without him knowing."
The day after the killing, Das called police and confessed, saying: "Saturday night I did very bad, honestly."
He pleaded guilty to Gabriel's manslaughter by diminished responsibility and the attempted murder of the other child, following psychiatric reports last month.
He will be sentenced on Friday.