Croydon tram crash: Two memorials planned for borough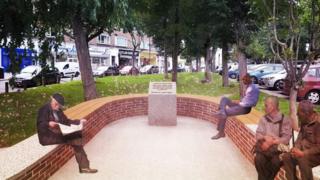 Two memorials in honour of those affected by the Croydon tram derailment are to be unveiled in November.
Croydon Council said it would build one memorial close to the crash site in Sandilands in time for the first anniversary of the tragedy which claimed the lives of 7 people and injured more than 50.
A second memorial will be built in the centre of New Addington.
Both will be unveiled during a ceremony on 9 November.
Tony Newman, leader of the council, said: "Almost a year has passed since the tram derailment, but those who lost their lives, their families and others affected by this terrible incident are never far from Croydon's thoughts.
"This tragedy had a big impact on Croydon and it is right two fitting memorials are in place because we will never forget.
"The civic ceremony will be the time to come together as a community to reflect and remember, and is also an opportunity to pay tribute to the tireless efforts of the emergency services and all those who helped in the aftermath of the incident."