Croydon Halloween murder: Witness relives being stabbed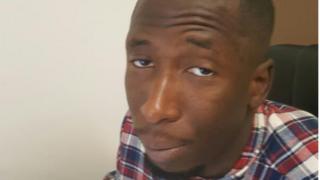 A man has relived being stabbed in the stomach as he fled on the back of a moped after seeing a friend murdered.
Abdil Jamal Abdilahi, 23, who was on his way to meet friends with fireworks, was knifed as he tried to get away.
Scotty Kouebitra, 22, had been setting off fireworks in a park when he was murdered by an armed group of masked attackers, the Old Bailey heard.
The part-time student was killed by a knife wound to his neck and chest.
Stabbed in leg
During the attack, Keith Hawker, 28, was also stabbed in the leg by the assailants.
Three young men and a youth are on trial accused of murdering Mr Kouebitra and attacking the two other victims.
On the evening of October 31 last year, Mr Abdilahi had hitched a lift to Selhurst Park in south London where he was planning to meet Mr Kouebitra and his friends.
When he arrived, he saw a group of about eight people in masks, hoods and balaclavas armed with knives and metal poles, the court heard.
'Kicking and punching'
He said the group appeared to be standing around someone on the ground, whom he now believes was his friend Scotty.
They were "kicking and punching" him on the ground and the person with the metal pole appeared to be striking him, he said.
Then Mr Abdilahi heard a voice shout "get him" and saw someone "charge" at him wielding a 2in (5cm) knife, the court heard.
As the knifeman "lunged" at him, Mr Abdilahi twisted his body away and felt as if he had been "punched in the stomach".
50 stitches
The victim was in hospital for seven days and needed around 50 stitches to the wound to his abdomen.
The court heard the group arrived at and left the park in two cars and were armed with weapons for a "planned attack" which took just two minutes.
Mr Kouebitra, from Sutton, was found lying on the ground with his clothes "soaking with blood" by a paramedic just after 20:00 BST.
Aaron Jackson, 26, of Harrington Road, South Norwood, Jahliel Rose, 21, of no fixed address, Marcus Asemota, 23, of Turpington Close, Bromley, and a 17-year-old, who cannot be identified, deny murder.
They have also pleaded not guilty to wounding Mr Hawker and Mr Abdilahi with intent.
The trial continues.