Ex-Ealing priest 'used punishment as ruse for sex attacks on boys'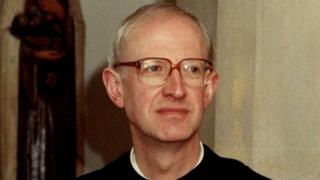 An ex-Roman Catholic abbot used discipline as a ruse for "sadistic" sexual offences against boys at a London school, a court has heard.
Laurence Soper, 74, denies 19 counts assaulting 10 boys aged under 16.
The alleged abuse took place when Mr Soper taught at St Benedict's School in Ealing, between 1975 and 1983, the Old Bailey heard.
The former Ealing Abbey abbot returned to the UK from Kosovo last year after a five-year police hunt.
The boys, who cannot be identified for legal reasons, were subjected to sexual touching, penetration and beatings with a cane, the court has been told.
Prosecutor Gillian Etherton QC told the court canings were allowed in the school at the time, but were "carried out by Mr Soper in entirely inappropriate ways".
Punishments were meted out for "fake reasons" such as kicking a football "in the wrong direction", "failing to use double margins", and "using the [wrong] staircase".
One alleged victim described Mr Soper as a "sadist".
He resigned as an abbot in 2000 and moved to Rome, during which time victims started to come forward, the court heard.
He was arrested and interviewed under caution at Heathrow in 2010 and bailed.
But the court was told he failed to return to a London police station in March 2011.
A European Arrest Warrant was later issued for him in 2012 and he was detained in Kosovo in May last year.