Overcrowding warning after Tube line upgrades suspended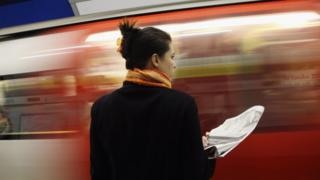 London Underground overcrowding "will get worse" after upgrades on two lines were put on hold, it has been claimed.
Transport for London (TfL) confirmed it was "temporarily pausing" plans to buy more Jubilee and Northern line trains.
Improvements aimed to allow trains to run more frequently, TfL had said. London Assembly Conservatives said a budget shortfall had led to the pause.
Leaders of the Aslef union said overcrowding would worsen and the delay may force the project's "cancellation".
An additional 17 trains were to be bought so the Northern Line could run a 30 trains per hour service at peak times.
The Jubilee Line would have had 10 new trains to operate a 36 trains per hour service.
Finn Brennan, Aslef's organiser on LU, said: "The Northern line is one of the most overcrowded parts of the Underground and passenger demand is projected to grow by a further 25% by 2023.
"Without new trains, overcrowding will get worse and worse."
The project had been paused due to a budget shortfall caused by Mayor of London Sadiq Khan's flagship "fares freeze" policy., the assembly's Tories claim.
Member Keith Prince said the freeze "blew a £640m hole in TfL's budget."
Tom Edwards, BBC London Transport Correspondent
When it comes to the language of transport - a "temporary pause" is as vague as "de-scoping".
The reality is this is a delay to new trains on the Northern and Jubilee lines.
Perhaps LU can increase the frequency with the existing stock although business groups are sceptical. Or perhaps these trains are no longer needed with the arrival of Crossrail.
The real worry for commuters of these packed lines is if this is just the start of a funding squeeze and other projects will face the "temporary pause".
David Hughes, LU's director for strategy and network development, insisted the pause had only come after "the largest investment programme in the Tube's history".
For example, capacity had increased with "the arrival of the Elizabeth [line]", Mr Hughes said.
"Our modernisation programme and in-depth technical work by our new combined engineering division has improved performance and reliability," he explained.
"This means we can increase the frequency of our existing trains without the immediate need for new trains, making journeys quicker and more comfortable for thousands of customers every day."