Croydon Halloween murder: Student 'killed by armed group'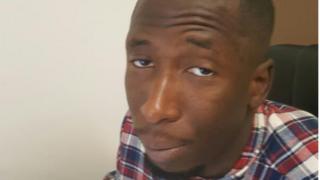 A part-time student was killed by a group armed with knives, baseball bats and a screwdriver in a night of Halloween violence, a court has heard.
Scotty Kouebitra, 22, suffered knife wounds to the neck and chest when he was set upon in a park in Croydon, south London, on 31 October 2016.
The Old Bailey was told he was killed and two others injured by eight attackers in the "planned" but "completely senseless" attack.
Four people on trial deny murder.
Aaron Jackson, 26, of Harrington Road, South Norwood, Jahliel Rose, 21, of no fixed abode, Marcus Asemota, 23, of Turpington Close, Bromley, and a 17-year-old, who cannot be identified, also deny a separate charge of wounding two other men with intent.
The court heard the group arrived at and left the park in two cars and were armed with weapons for a "planned attack" which took just two minutes.
Mr Kouebitra, from Sutton, was found lying on the ground with his clothes "soaking with blood" by a paramedic just after 20.00 BST.
Blood spatter
Prosecutor Louis Mably QC said the evidence did not reveal why Mr Kouebitra was killed but he could have simply been "in the wrong place at the wrong time".
Two others were injured during the attack, the Old Bailey heard.
Keith Hawker was stabbed in the leg while Jamal-Abdilahi, who was a passenger on a passing moped, was stabbed in the stomach, jurors were told.
Mr Mably said blood spatter and DNA which was found to be a "one in a billion" match to Mr Kouebitra was found on a stained snood and trainers seized by police when the 17-yea- old was arrested.
The teenager had been the subject of a court-ordered curfew but the sensor on his ankle revealed he did not get home until after the murder, the court heard.
The trial continues.