Two million Londoners 'in poverty despite record employment'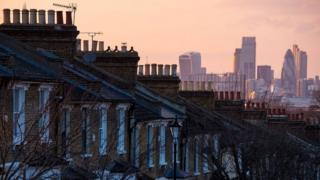 More than two million Londoners are living below the poverty line even though record numbers of people are in work, a study has found.
The report by charitable foundation Trust for London found 58% of those in poverty are from working households.
The group said housing costs were the main reason why so many people were struggling and called for "action".
Mayor Sadiq Khan is "committed to doing all he can to tackle the cost-of-living crisis", a spokesperson said.
The trust's investigation revealed 700,000 children, 1.4 million working-age adults, and 200,000 pensioners are living beneath the poverty line in the capital.
London's poverty rate was also found to be higher than the rest of England, at 27% compared to 21%.
This was despite unemployment levels in the city falling to a record low of 280,000, in 2016.
"The reality remains, that for many work does not pay enough, or offer the security that people need", Mubin Haq, director of policy and grants, said.
The group also found there was a huge difference in wealth between the richest and poorest in the city.
The bottom 50% of London households own just over 5% of London's wealth, whereas the top 10% owns over half, according to the trust.
Commenting on the report, Mr Khan's spokesperson said the mayor was "appalled that, in a city as prosperous as London, some people have to rely on food banks to feed their families."
The charitable foundation considers households to be in poverty if their income is below 60% of the median income, after taxes and housing costs are deducted.