Ealing Council to consider anti-abortion protest order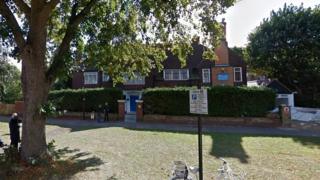 A London council is considering legal action against anti-abortion protesters accused of "harassing" women attending a clinic.
Ealing Council will discuss options to prevent "the daily disruption and intimidation" at Marie Stopes clinic in Mattock Lane, Ealing.
Some protesters used "deliberately disturbing images", the council said.
The Good Counsel Network, which holds daily vigils outside the centre, said it did not harass women.
A petition set up by residents' group Sister Supporter has more than 3,000 signatures objecting to the protests.
Clare McCullough, the Good Counsel Network's founder, told the BBC: "We're there to tell woman that there is an alternative to abortion.
"We may disapprove of abortion, but we don't disapprove of individuals who are in trouble. These woman are not being offered these alternatives inside Marie Stopes."
She added the group had held its vigil for 23 years "without any criminal charges".
The council will review and consider points set out in the petition including the introduction of a Public Spaces Protection Order on Tuesday.
Local resident and Sister Supporter Anna Vegilo-White said the anti-abortion vigils went "far beyond the legal right to protest".
"While we respect the views of this minority group, we strongly object to their placement and behaviour outside clinics," she said.
Councillor Binda Rai, who is proposing the motion, said many protesters used deliberately disturbing and graphic images and models - with some resembling dismembered foetuses.
"The right to protest needs to be balanced with the right of pregnant women to choose and to obtain advice and treatment in confidence and free from intimidation." she said.
'More traumatic'
Marie Stopes UK's chief nurse Sally Bassett said small groups of protesters were a common feature outside abortion clinics.
"Many carry out peaceful protests and keep their distance from the women accessing services, but even they can make what is already a difficult day much more traumatic", she said.
PSPOs, which replaced Asbos, are more commonly used to stop antisocial behaviour such as public drinking and drug-taking.