Alexander Paul: 'He could have been the first black PM'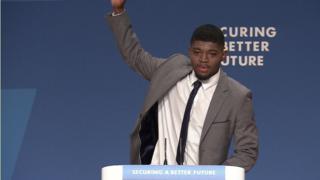 Alexander Paul used to joke he could be the UK's first black prime minister - but his friends believe he could have done it. Before he could even begin to dream about fulfilling his ambitions, Mr Paul died of complications due to brain cancer, aged just 21, in June.
Prime Minister Theresa May had just begun one of the most important speeches of her career when she paused to remember Mr Paul.
With his help she had "shaken up the system" and reformed discriminatory stop-and-search practices, Mrs May told the Conservative Party Conference on Wednesday.
"Let us today remember the courage he showed in coming to our conference to speak out against injustice, take pride that we gave him a platform, and, inspired by his example, redouble our efforts to give a voice to the voiceless at every opportunity," the prime minister said.
Three years earlier an 18-year old Mr Paul had introduced the then home secretary at the 2014 Conservative Party Conference.
'Passion'
The bright and ambitious student from Crystal Palace in south-east London told the Tory party faithful that more than 20 stop and searches in five years had left him "feeling vilified, exploited and angry".
According to the broadcaster and journalist Afua Hirsch, Mr Paul "opened the eyes" of Mrs May to the psychological effects of repeated stops and searches on young black men.
Since 2014 the number of stops and searches in London has fallen, continuing a trend that began at the start of the decade.
"He never really got that chance to see what he could do," his mother Joanna Brown told the BBC.
"I remember being really proud... he had this passion to share his experience," she said.
A few months before the 2014 conference, Mr Paul began a degree in politics and international relations at the University of Warwick.
"He was an exemplary student," remembers one of his contemporaries Richard Oyin.
"He used to say that there was still time for him to be the first black prime minster. It was half a joke, but he could have done it."
However, his brush with frontline politics caused him to refocus, his mother said.
"He became more into finding ways to get people to open up and deal with their emotions, which he thought would lead to fewer suicides," Ms Brown said.
Mr Paul had used poetry to work through his feelings following the death of a grandparent and the disintegration of his parents' marriage.
In honour of his work, Mr Paul's family are planning to publish an anthology of his poetry and start a mental health charity to continue his work.
"Even in death he's still helping and inspiring people," Ms Brown said.
In March 2016, Mr Paul suffered a seizure and was put in an induced coma for three days. Doctors later diagnosed him with stage four brain cancer.
A crowdfunding campaign raised over £56,000 to fund a trip to Germany for pioneering cancer treatment.
However, in June Mr Paul died from complications caused by his cancer.
He is survived by his mother, an older sister and a younger brother.