Pentonville trial: Managing inmates like 'playing Pac-Man'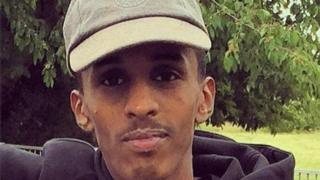 A warden who let three prisoners out of their cells before they allegedly murdered a man compared marshalling inmates to "playing a game of Pac-Man".
Supervising officer Dizzy Vergo was giving evidence in the Old Bailey trial of three men accused of murdering fellow inmate Jamal Mahmoud, 21.
Mr Mahmoud died at Pentonville prison, north London, on October 18 2016.
She told jurors she let out the defendants Basana Kimbembi, 35, Joshua Ratner, 27, and Robert Butler, 31.
'Order disobeyed'
The defendants all deny murder. They also deny wounding fellow inmate Mohammed Ali with intent to cause him grievous bodily harm.
The court was told that Ms Vergo's order for Mr Mahmoud's floor to remain locked up was disobeyed.
She said she had concerns about people going from "cell to cell, trying to get tobacco, drugs, whatever" and a growing gang culture in the prison.
She had been warned of trouble brewing but let the three accused men out of their cells, the court heard.
Ms Vergo said she had made arrangements for Mr Mahmoud to be moved off G Wing before he was killed, but it did not happen.
Questioning her about her order to lock down the fifth floor, Charles Sherrard QC said: "Somehow more than one cell has been opened on the fifth floor at the time when you have given an order to make sure they are not.
"If your orders had been followed the people on the fifth floor should have been safely locked away out of harm's reach."
Ms Vergo agreed.
The trial continues.