Five blockages an hour in London sewers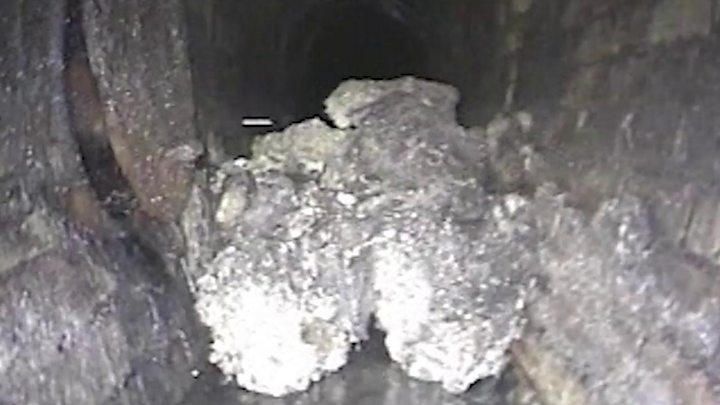 Thames Water is unclogging five blockages an hour from London's sewers - at a cost of £1m a month.
The company, which is also monitoring five fatbergs lurking in the capital's sewers, said some boroughs had seen an increase in obstructions.
Tower Hamlets - home to the 130-tonne "monster" fatberg - tops the list for the sharpest rise in blockages caused by items such as flushed wet wipes and sanitary products.
It saw a 30% increase in 2016-17.
What does the fatberg smell like?
The people turning fatbergs into fuel
The five fatbergs, which are masses of congealed fat, wipes, nappies, oil and condoms, are in trunk sewers in Savoy Street, Lisle Street, Northumberland Avenue, Whitehall Place and Whitechapel Road.
Thames Water said it was monitoring the fatbergs.
The average domestic sewer pipe is about the same diameter as a cricket ball.
Large items such as wipes, nappies, sanitary towels and lumps of solidified fat can easily become stuck.
Last year, Thames Water was called out to clear 41,878 blockages across London's sewers, down 7% from 2014-15.
Blockages caused by non-flushable items
Top five 2016 - 2017 increases
21% Richmond upon Thames

20% Newham

16% Enfield

15% Haringey
Thames Water
Despite this downward trend, nine boroughs saw an increase of 5% or more in blockages formed from fat and non-flushable items, according to new data seen by the BBC.
Boroughs with the most recorded obstructions are all on the suburban edges of London.
The fewest blockages were found in boroughs clustered in central London, including the City of London, Kensington and Chelsea, and Westminster.
Pat Lavender, who heads up Thames Water's fatberg-fighting campaign, said: "It's great to see that in some areas the number of blockages caused by fat and non-flushable items like wipes is decreasing.
"But at the same time worrying that in other parts of London they're on the rise."
Thames Water records every blockage it clears. The data is then used to directly target customers in the worst offending areas with its "Bin it - don't block it" campaign.