Exhibition explores London's alternative currencies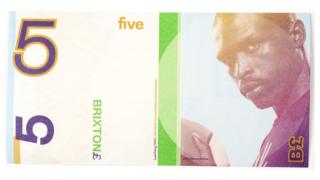 An exhibition looking at alternative currencies used in the capital from the 17th Century has opened at the Museum of London.
(Un)common Currency features notes and tokens that were created to develop local economies, further political causes and spread messages.
Curator Vyki Sparkes said they showed how people adapted "to deal with the political, social and personal challenges of their times".
The exhibition runs until 21 January.
---
Equitable Labour Exchange note, 1832
This note, which is worth one hour of somebody's work time, comes from the first Equitable Labour Exchange set up by socialist Robert Owen in 1832.
The system worked on the principle that goods were exchanged based on the number of labour hours that went into producing them, rather than on their resale value.
It initially proved to be a financial success and other branches of the exchange were opened.
However, difficulties with the system meant it only lasted until 1834.
---
Trade token, mid 17th Century
Traders created their own tokens as a way to do business when change was in short supply.
Each copper piece included the names, initials and symbols of people and their businesses.
---
Tally stick
Tally sticks were introduced in the Middle Ages and used for about 600 years as a way to record debt.
The wooden sticks would have notches marked in both ends and would then be split in two, with the halves given to the debtor and the creditor.
The debtor's half was called the "foil" while the creditor was given the "stock". The word "stocks" is still used by British bankers today to refer to debts of the British government.
The system was abolished by the government in 1826 and in 1834 the decision was taken to burn the sticks - but with disastrous results.
They were put in a coal-fired stove in the House of Lords, which led to a raging chimney fire that destroyed most of the Palace of Westminster.
What tally sticks tell us about how money works
---
Suffragette penny, 1910
Suffragettes defaced pennies, stamping "Votes for Women" on King Edward VII's head in order to spread their message about votes for women.
They purposefully chose to deface low-value coins, which would be circulated more widely.
---
Convict's token, 1828
This penny was rubbed down by convict John Kirawin as a memento for his parents while he was awaiting transportation to Australia.
It reads: "John Kirawin tried 10th April 1828. Cast for death. Farewell (sic) dear father and mother, to grieve for me, it is in vain. I hope I shall return again."