Man who shouted anti-Semitic abuse has sentence increased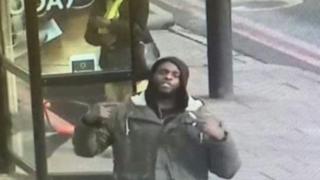 A man who hurled anti-Semitic abuse at worshippers on their way to synagogue has been handed a tougher sentence due to hate crime laws.
Glenn Okafor, 32, shouted "we will wipe you out" outside synagogues in Stamford Hill, north London, on 4 March.
His comments were intended to make worshippers "fearful of their safety", the Crown Prosecution Service said.
He was sentenced to 200 unpaid hours of work - increased from 150 hours - at Stratford Magistrates' Court on Friday.
Crimes motivated "wholly or partly" by hostility based on religion, race, sexual orientation, transgender identity or disability are eligible for increased sentences.
He was also ordered to pay £770, including £150 to each of his victims, and given a 12-month community order.