Brompton recalls folding bikes over faulty bracket axle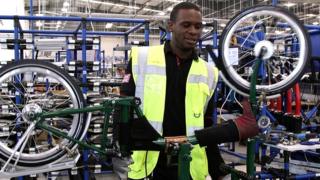 Folding bicycle company Brompton Bikes has recalled nearly 150,000 of its machines over concerns about faulty axles.
The London-based company said 144,000 bikes made between April 2014 and May 2017 had been recalled.
The axle in the German-made bottom bracket had failed on one in 5,000 bikes, the company said.
The failure left riders unable to pedal and in one case a cyclist had been hurt, the firm added.
Bike owners are being asked to take their cycles to a certified Brompton dealer where the bracket will be replaced free of charge.
Will Butler-Adams, CEO of Brompton Bicycle apologised that it had to recall a number of its FAG bottom brackets, but added it was important to "protect customers".
"We've had an increased number of failures - not particularly high - but sufficient enough to cause concern", he said.
"This is a hassle, a pain and we are really sorry about that and potentially we're going overboard but it is critical to us to protect the experience of our customers."
The company is named after the Brompton Oratory in South Kensington, which founder Andrew Ritchie could see from the window of his flat as he worked on a prototype in the early 1980s.