Cancer patient critical after Newham street robbery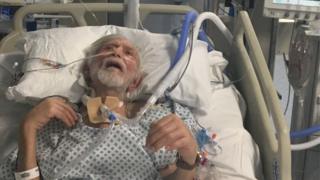 An 82-year-old cancer patient who had his back broken by three men who attacked him and stole his jewellery is in a critical condition.
Ahmet Dobran, who also has Parkinson's and uses a walking stick, was beaten and pinned down before his gold bracelet and Longine watch was taken.
The robbery on the evening of 27 August in Newham, east London, left him with three fractured vertebrae.
Police are continuing to appeal for information of the "violent attack".
Since the attack, Mr Dobran has been in and out of an induced coma and he is now on a high dependency ward in hospital, police said.
New images of three men police want to speak to in connection with the attack have been released.
Mr Dobran's children said they were "devastated" by the attack.
"This attack has taken his independence away. Our father is not an indoor person, and now he will be stuck indoors for the rest of his life.
"We are appalled at how someone can do this to an old man.
"He is now unable to fly to Cyprus to see the rest of his family - he used to go there a couple of times a year."
They urged anyone with information of the attack to come forward, adding: "The people who did this could do this to someone else, with no guilty conscience."