Westminster Bridge: Fire crews tackle car fire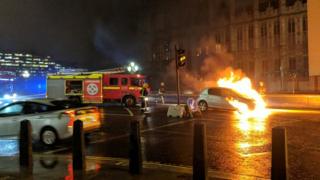 Fire crews have been tackling a car fire on Westminster Bridge in central London.
Emergency services were called to the scene shortly after 19:40 BST and road closures were put in place.
The cause of the blaze is not yet known. However, it is not being treated as suspicious by the Metropolitan Police.
The force said the driver was unharmed and the fire has been successfully extinguished.