Pentonville inmate 'killed in attack by prisoners'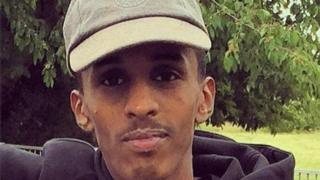 An inmate went "crazy" and repeatedly stamped on a fellow prisoner as he lay injured on the floor, the Old Bailey has heard.
Jama Mahmoud, 21, was fatally stabbed on 18 October 2016 in a row over contraband smuggled into Pentonville prison.
Basana Kimbembi, 35, stamped on Mr Mahmoud's head up to four times, the court heard.
Robert Butler, 31, Joshua Ratner, 27, and Kimbembi, all deny murder.
The stabbing took place in the afternoon outside cells in an area not covered by CCTV.
Supervising officer Dizzy Vergo had allegedly been warned of trouble brewing but let the three alleged killers out of their cells.
Prison officer James Day said he spoke to Ms Vergo before the attack and witnessed the violence as it unfolded.
He told jurors: "I was just at the bottom of the stairs on G2 (second floor of G Wing). It was just stamping of feet and loads of noise. You know something is going on. It's what you hear when there is a fight happening."
Out of the corner of his eye, Mr Day saw Kimbembi running on the stairs.
He said: "As I turned round, he reached about the third step of the stairs and then jumped on Mr Mahmoud.
"Mr Kimbembi then leaned forward and held on to the railings and then proceeded to stamp on his head a further three or four times."
The officer said the defendant used "a lot of force" in the attack and then ran off "screaming and shouting" and acting like "he was crazy".
Mr Day described a "melee" of prisoners crowding on to the landing, carrying weapons, including table and chair legs.
Other officers rushed to help Mr Mahmoud as he lay face down on the fourth floor, jurors were told.
When Mahmoud was turned on to his back, the officer said blood from a stab wound was clearly visible.
The three defendants also deny wounding Mohammed Ali with intent to cause him grievous bodily harm.
The trail continues.