Dr Sumit Basu cleared of sexually assaulting Lewisham patients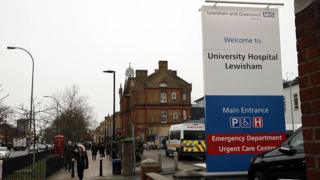 A doctor has been cleared of sexually assaulting three women during medical examinations.
Dr Sumit Basu, 59, was accused of assaulting the women between 2006 and 2014 in his role as a senior consultant cardiologist at Lewisham Hospital.
All three claimed Dr Basu touched their naked breasts. Two alleged he carried out unnecessary internal examinations.
Dr Basu, who denied any wrongdoing, was cleared of seven counts of sexual assault at Woolwich Crown Court.
He was also cleared of three counts of assault by penetration.
He claimed the incidents were normal medical procedure and that a doctor could not look at a complaint "in isolation".
Dr Basu did not react as the verdict was read out, but had previously described the allegations as "devastating".