Southfields burned garden body: Two charged with murder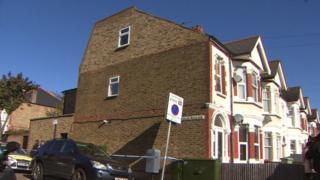 A man and a woman have been charged with murder after a badly burned body was found in a back garden.
Ouissem Medouni, 40, and Sabrina Kouider, 34, were arrested in Southfields, on Thursday evening.
The pair, of Wimbledon Park Road, appeared at Wimbledon magistrates. They are due at the Old Bailey next Tuesday.
Reports suggest the victim worked as a nanny at the address, but the Met said the person's remains were too charred to work out their gender and age.
Det Insp Richard Leonard said detectives were "doing everything we can to identify the deceased".
A post-mortem examination will be carried out in due course.
Neighbours reported a burning smell and seeing "light smoke" coming from the garden of a property.
One, Mario Riccio, said he was "shocked" to hear of the news.
"It's a good area", he said.
"We are busy people around here - it's not often something like this happens."
He told the BBC he knew mostly of the nanny who lived at the address.
"The nanny would be in and out, in and out - to the parks and to the shops with the children so I used to see the nanny very very often", he said.
One local man, who asked not to be named, said his daughter came home with a letter from school as a result of the police activity.
A Sheringdale Primary School spokesman said: "This is an incredibly distressing incident that has come as a great shock to the whole school community."