Mayor Sadiq Khan calls for bigger NHS role in London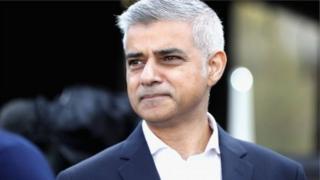 The Mayor of London has called for a greater role in overseeing the future of NHS plans in the capital.
Following expert recommendations, Sadiq Khan has suggested stronger city-wide leadership is needed for London's healthcare.
The mayor, who is chair of London Health Board, has set out six key points to ensure Londoners get "the best healthcare possible".
The points include improving hospital capacity and clinical outcomes.
The report recommends that Mr Khan ensures there is proper coordination across the capital and that plans for five local NHS Sustainability and Transformation Partnerships (STPs) meet the needs of all Londoners.
The report also outlines other ways in which he can provide leadership on health, including tackling staff shortages and giving children the best start in life.
Mr Khan warned that with a potential gap of £4.1bn in NHS finances in London by 2021, the government must provide key assurances.
---
Karl Mercer, BBC London Political Correspondent
You may think that London's mayor has enough on his plate. So why would Sadiq Khan seek to step into a world where he has no control?
The report he commissioned from the King's fund and the Nuffield Trust raises serious questions over funding, staffing and bed places in London. The mayor can do little to change any of those.
He can use this report to push his case for further powers over health - like the Mayor of Manchester.
He can also use it to try and jog the government's memory about a deal that has been on the cards since the spring.
The so called 'Memorandum of Understanding' is expected to offer London's NHS more power to keep the money it raises from selling surplus land, and freedom to pay staff more to stay in the capital.
It is a deal that was supposed to be signed earlier in the year, but an election got in the way. The mayor may use today's report to nudge the government pen holders to let the ink flow.
---
"Any plans around the future of NHS services in London must be given proper investment, and must not have an adverse impact on health inequalities, social care or hospital capacity", he said.
"I also want every assurance that our heroic doctors, nurses and health and care professionals get all the support they need to realise these plans, and that Londoners and patients are properly consulted.
"By working together, with a city-wide vision, we can ensure that Londoners get the best healthcare possible."
A spokesperson for NHS England (London) said: "There is wide agreement about the need for expanded prevention and out-of-hospital care, but new safeguards are also now in force which mean before any alternative service plans are confirmed, hospitals have to demonstrate they have enough beds to provide safe, modern and efficient care."
STPs are plans for the future of health and care services in England.