Dr Sumit Basu 'sexually assaulted patients' in Lewisham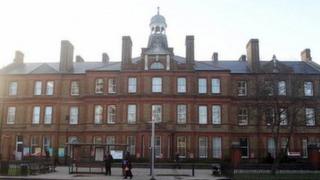 A doctor relied on the naivety and trust of his patients to sexually assault them, a court heard.
Dr Sumit Basu, 59, is accused of touching three women inappropriately during appointments over eight years.
He is said to have touched the naked breasts of the women, and carried out internal examinations on two.
Dr Basu, of Ringmore Rise, Lewisham, denies three charges of assault by penetration and seven counts of sexual assault, at Woolwich Crown Court.
At the time, he was working as a consultant for the Lewisham and Greenwich NHS Trust.
'Sexual gratification'
Hanna Llewellyn-Waters, prosecuting, said: "It is the prosecution case that, during consultations with the complainants, the defendant abused his position of trust as their doctor in order to sexually assault them."
She added: "He relied upon their naivety and their trust in him as their doctor to abuse them for his own sexual gratification."
One of the victims, who was 18 when in Dr Basu's care, later complained to police and two more women then came forward, the jury heard.
The victims, aged between 18 and 28, found the examinations "odd, uncomfortable and upsetting", Ms Llewellyn-Waters told the court.
'Painful' examination
She said they had not complained at the time because they trusted the doctor, and had been assured by him that he was "acting in accordance with their care" during the alleged incidents between 2006 and 2014.
The first victim to complain to police did so after being left tearful following a painful internal examination, the court was told.
She had initially been referred to Dr Basu because she had palpitations and chest pains, and was later examined internally after saying she had been having urinary infections.
Another victim was instructed by Dr Basu to remove the clothing on the top half of her body just to have a blood pressure check, the jury heard.
She described as "horrible" an occasion when the doctor cupped her breast with his bare hand, the prosecutor added.
The trial continues.