Boy arrested after allergic reaction death at Greenford school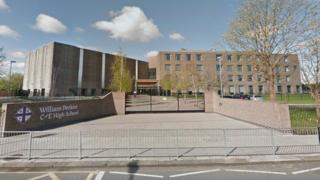 A 13-year-old boy has been arrested on suspicion of the attempted murder of another 13-year-old boy who died following an allergic reaction, it has emerged.
He was held in connection with an incident at William Perkin Church of England High School in Greenford, west London, which happened on 28 June.
The teenager was released on bail until late July, police said.
Karanbir Cheema died on Sunday, almost two weeks after collapsing.
A post-mortem examination is due to take place on Wednesday.
Alice Hudson, executive head teacher of Twyford Academy Trust, said: "Karanbir Cheema (known as Karan) was a popular Year 8 student at the school. He had many friends who are devastated at his death, as are the staff.
"He was a bright and keen student who excelled in maths. Our thoughts and prayers are with Karan's family."