Edir Frederico Da Costa death: PCs injured in London protest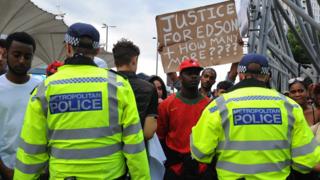 Fourteen police officers have been injured and four people arrested in a protest over the death of a young father following a traffic stop.
Bricks were thrown and fires were lit outside Stratford bus station and Forest Gate police station in London.
Protesters allege Edir Frederico Da Costa, 25, was "brutally beaten" by Met Police officers earlier this month.
The police watchdog is investigating the treatment of Mr Da Costa, who died six days after he was stopped.
Campaigners claim Mr Da Costa suffered serious injuries after being stopped by Met officers in a car containing three people.
But the Independent Police Complaints Commission (IPCC) last week said a preliminary post-mortem examination ruled out a number of those injuries.
"Rigorous investigations" into the cause of his death were continuing, it said.
The police watchdog said it was releasing the information because it was concerned about the "rapid spread of false and potentially inflammatory information".
The Met Police had earlier said six of its officers had been injured in the protest but released an update on Monday afternoon.
It said four officers were taken to hospital for medical treatment.
They include a male police sergeant who was knocked unconscious after an object struck his helmet, as well as officers with neck, leg and wrist injuries. All four officers have since been discharged from hospital.
Earlier on Sunday evening, Borough Commander Supt Ian Larnder addressed of a group of protesters in an attempt to answer their questions and calm tensions.
One protester rode his motorbike up to the police line and revved his engine in front of officers.
Another motorcyclist turned his bike towards the officers and span his wheels so that smoke blew towards them.
Firefighters, protected by police, put out a fire which had been started in a bin in Richmond Road. Bins were also set alight near a McDonald's in Romford Road.
One person was arrested on suspicion of disorder offences, while three other people were held on suspicion of arson and criminal damage.
Family campaigners distanced themselves from the violence and insisted the march had been intended as a peaceful demonstration.
The force said the number of protesters started to dwindle just before 23:00 BST on Sunday.
Mr Da Costa, known by friends as Edson, died on 21 June, six days after being stopped in a car in Woodcocks, Beckton, in Newham, east London.
In a statement posted on an online GoFundMe page, his family said: "This is a call for justice, not just for Edson but for all young men that are forgotten and unprotected in this reckless system."
They have called for any witnesses to come forward to the IPCC, in particular anyone with video footage.
Nearly £5,000 has been raised on the fundraising site.
Grime musician Stormzy tweeted #justiceforEdson last Friday.
Last week, Mr Larnder said in a statement: "All police officers are fully aware that they will be asked to account for their actions - officers are not exempt from the law and we would not wish to be.
"I know that Edir's family, friends and the wider community want answers, but it is important that the [IPCC] investigation is allowed to take place to establish the full facts of what happened before any conclusions are made."
Get news from the BBC in your inbox, each weekday morning